Academic work and publications
The scientific staff of the archives spend part of their working time conducting historical research and processing archival sources using archival and historical research methodologies. The results of the scientific work carried out in the archives are most visibly presented in the books and volumes published by the institution. Publications of the Veszprém County Archives are divided into a number of series.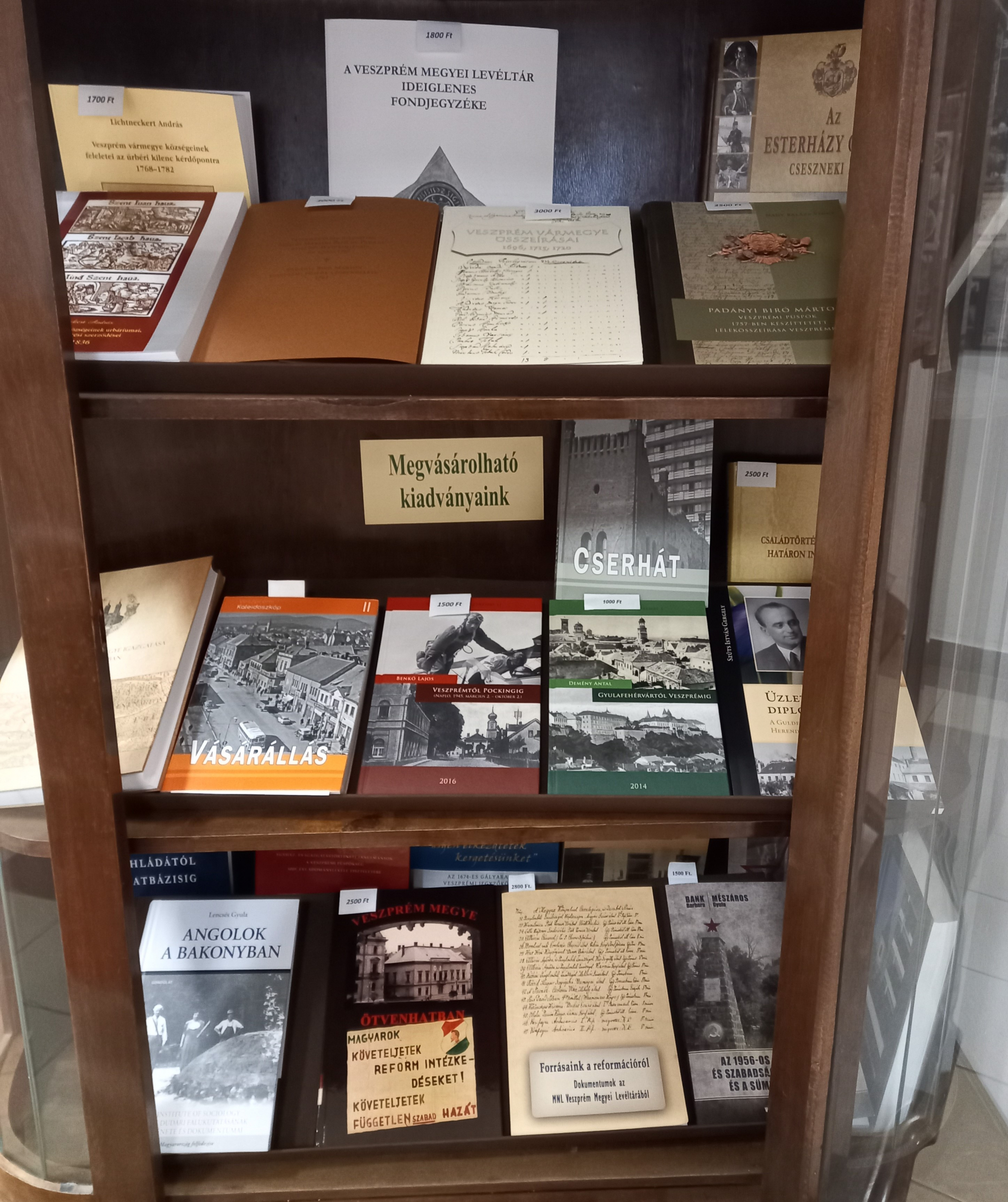 The first volume of the main series was published in 1977 by Jenő Gutheil (1887-1963), canon of Veszprém, archivist of the chapter, under the title "Árpád-era Veszprém". The last volume in the series, currently number 42, entitled "Shattered Memory - Veszprém's World War I Losses in the Light of Archival Sources", was published in 2021.
The volumes of the series can be grouped by content as follows:
monographs - the history of Veszprém, Balatonfüred, Ajka, Hidegkút, Felsőörs, Alsóörs, Csopak, Lovas, the history of the Balatonfüred-Csopak wine region, the history of the diocese, the history of the Herend Porcelain Factory, the events of 1956 in the Sümeg district);
papers and conference proceedings - family history, county history, industrial history, manorial history, church history, history of the Hungarian Soviet Republic, history of World War I;
source publications - 18th-century description of the county, censuses, registers, urbarii, settlement contracts, the will of Bishop Márton Biró Padányi, sources on the history of the Reformation, documents from 1956;
repositories, archontologies and archival aids.
The sub-series entitled Kaleidoscope presents the history of Veszprém's districts street by street. Previous publications include Cserhát (2013), Vásárállás (2015), Püspökkert (2015), and Jeruzsálemhegy (2018).
In the sub-series From Veszprém to Veszprém, we publish memoirs and autobiographies by people who were born in Veszprém or have settled in Veszprém.
Previous publications include From Gyulafehérvár to Veszprém (2014), From Veszprém to Pocking (2016), Family History in Two Voices (2016), and Recollections (2020).
The four volumes of the Pápa publications series contain the publications of the Pápa Branch Archives, which operated from 2008 to 2021.
In addition to the series, there are publications such as the 2014 archives brochure, and the exhibition guide booklets The Pumas of Veszprém (2014) War Locked in a Commode (2015).
In collaboration with other publishers: From Tenant to Citizen (2014), Brits in the Bakony (2019), and Armorial Letters of Pápa (2020).
The large majority of our publications are in Hungarian. In the case of source publications, the original Latin source texts can also be found in the volumes. We have one publication in German.
The current list of publications is available at the link.